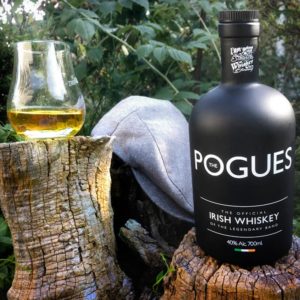 Die heutige Whisky Review widmet sich dem The Pogues Irish Whiskey,
dem offiziellen Bandwhiskey der legendären Irishfolkpunkband.
Wer beim Lesen des Artikels auch den richtigen Soundtrack wünscht,
scrollt einfach kurz nach ganz unten und startet den dortigen YouTube-Clip.
Selbst den Nichtfans der Band sollte zumindest der Song "Fairytale of New York"
bekannt sein, welcher zur Weihnachtszeit gerne Verwendung findet.
Unfassbar oft gecovert, stammt das Original aus der Feder Shane MacGowans,
dem Sänger und Gründungsmitglied der Band. Neben dem o.g. Song, gibt es
auch Titel wie "Streams of Whiskey" und "Whiskey you're the Devil",
welche eine gewisse Nähe zum flüssigen Gold vermuten lassen. Somit ist es
auch nicht sonderlich überraschend, dass es nun, über 30 Jahre nach der
Gründung, auch einen Whiskey gibt, der den The Pogues gewidmet ist.
Ob dieser Bandwhiskey aber dem geneigten Whiskeyliebhaber gerecht wird,
oder am Ende maximal etwas für echte Fans der Band ist, wollen wir uns nun
genauer anschauen.