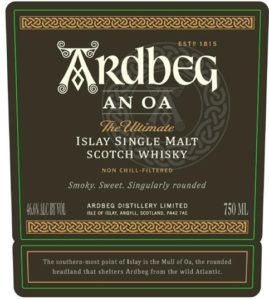 Ein neuer Ardbeg ist im Anflug
Endlich Zuwachs für die Ardbeg Core Range durch den neuen Ardbeg An Oa. Ab September soll er das Ardbeg-Repertoire ergänzen. Schon im Januar 2017 konnten wir das Label für den Ardbeg An Oa in der Datenbank des US-amerikanischen Alcohol and Tabacco Tax and Trade Bureau (kurz: TTB) sehen. Das hat neugierig gemacht. Meist ist TTB ja wirklich eine recht zuverlässige Quelle. Nun wissen wir es aber endlich ganz genau!Ardbeg Committee Mitglieder konnten heute Vormittag eine Nachricht mit allen Informationen in Ihrem Posteingang finden. Ihr habt die Mail nicht bekommen? Ok, dann haben wir hier für Euch einen kleinen Auszug mit den wichtig Infos zum neuen Ardbeg An Oa aus der Original-Committee-Nachricht:
"As many a visitor to Islay has discovered, the Ardbeg Distillery can be subject to alarmingly fierce winds, driving rain and eerie coverings of haar. However, these weather events would be far more extreme, were it not for the presence of the Mull of Oa.

This vast, rounded peninsula shelters the Distillery from the harshest excesses of the mighty Atlantic and is the inspiration for a brand new and permanent addition to the Ultimate range – Ardbeg An Oa!"
"Like the Mull of Oa, the whisky is also noticeably rounded. This is due in no small part to a spell spent in Ardbeg's newly-established bespoke oak Gathering Vat. Within the vat we gather together whiskies from several cask types – including; sweet Pedro Ximenez; spicy Virgin charred oak; and intense ex-bourbon casks, amongst others – where they familiarise themselves with each other before bottling. The result is a singularly rounded dram whose smoky power is balanced by a delectable, smooth sweetness."
Klingt ganz spannend, oder? Noch ist Geduld gefordert. Ob er die hohen Erwartungen erfüllt? Ist er wirklich so unglaublich rund und ausbalanciert … oder vielleicht auch einfach nur etwas gefälliger? Wir werden es sicher bald erfahren. Für alle Freunde harter Fakten kommen jetzt erstmal die Eckdaten zum Ardbeg An Oa:
Brennerei: Ardbeg
Typ Single Malt Scotch
Alkohol: 46,6%
Alter: NAS (no age statement)
Fass: Vatting aus frisch ausgebrannten Eichenfässern,
PX-Sherry- und First Fill Bourbon Casks
Offizielle Tasting Notes:
Aroma: Dezentes Raucharoma, cremige Toffeenoten
sowie Anis, Datteln, Anklänge von Pfirsich und Banane.
Geschmack: Cremig-samtene Textur, sirupartigen Süße, Vollmilchschokolade, Orangen, rauchige Teeblätter,
süße Gewürznoten, Zigarrenrauch und gegrillte Artischocken.
Nachklang: Langanhaltend und rauchig.
Tja, seit etwa 10 Jahren gab es für die Core Range der Insel-Brennerei kein frisches Blut mehr. Mit dem Ardbeg 10, Ardbeg Corryvreckan und last but not least dem Uigeadail, gibt es für meinen Geschmack drei hervorragende und ja tatsächlich ja auch vielfach preisgekrönte Tropfen. Wenn sich der Ardbeg An Oa da nicht nur abgerundet einreiht, sondern es schafft das Spektrum durch seinen eigenen Charakter noch zu erweitern, dürfen wir uns sicher alle freuen! In Großbritannien soll er wohl 49 Pfund kosten … mal sehen wo er sich hier preislich einreiht. Wir dürfen rundum gespannt sein.
Hier nun der passende Soundtrack zum neuen Torftropfen aus dem Hause Ardbeg:
Cheers,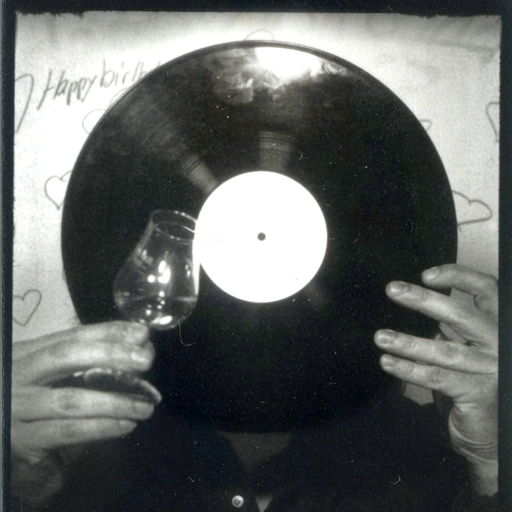 RAISE YOUR GLASSES AND LISTEN TO GOOD MUSIC!
Eine schöne Auswahl an Ardbeg-Whiskys findet Ihr natürlich bei unseren Freunden von whic.de oder beim lokalen Whiskyhändler eueres Vertrauens.
Wenn ihr euch schonmal musikalisch auf den Ardbeg An Oa vorbereiten möchtet, bei unseren Partnern von JPC gibt's reichlich frisches Vinyl zu fairen Preisen … und das neuerdings sogar Versandkostenfrei! ?
Cheers!

Quelle: ttbonline.gov, Ardbeg Committee Mailing